Skate Brandon Coaches
Skate Brandon coaches are fully certified and are members in good standing with Skate Canada. Each professional coach is required to have a minimum NCCP Level 1, First Aid, and BackCheck - Police Clearance Check. Skate Brandon ensures all documents are in place prior to any session commencing each year.
Tammy McKay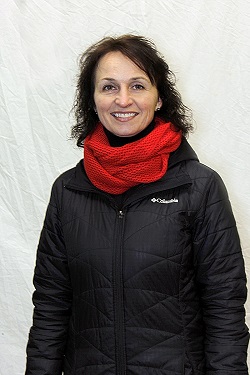 Tammy McKay coaches Starskate, CompetitiveSkate, and Synchronized Skating. She has over 30 years coaching experience, NCCP Level 3 Certified, Partial Level 4, Respect in Sport Certified, Manitoba Regional Seminar Clinician.
Teddi Garvey
I have always loved skating and started when I was three years old in Wapella, SK. I competed provincially and began coaching training 28 years ago. I love coaching and seeing my skaters become competent and confident on and off the ice. I have coached skaters who have become Olympians, drafted by the NHL, nurses and teachers who have grown into amazing members of the communities they live in.
You can find me in hockey skates or painted figure skates coaching PowerSkate, CanSkate and StarSkate in Brandon and Carberry. I am also Skate Manitoba's CanSkate Learning Facilitator and get the opportunity to train new coaches in Manitoba.
COACHING PHILOSOPHY
Foster the love for sport, no matter what sport.
Create a fun, supportive, encouraging and safe place for skaters to grow as skaters, athletes, students and people too.
As a coach - I promise to continually learn and grow. I will always do my best until I know better, when I know better, I'll do better.
Reflecting on my coaching career, I am extremely grateful to the clubs, my skaters and parents for their trust and support.
When I am not on the ice, you can find me at work as a creative writer at StarFM and Q Country. Spending time with my daughters, Rayna and Rochelle, and our dog, Ziggy. Running, hiking, biking, lifting weights or crocheting on my couch!
.Cynthia Taylor
Our newest StarSkate coach! Cynthia received her coaching certificate certification in 2011 and recently joined Skate Brandon in the fall of 2023. She is regionally certified and Respect in Sport certified. Cynthia is a registered nurse with a passion for community involvement and is excited to be part of the Skate Brandon TEAM.
Tia Huston
My name is Tia Huston and I am originally from Russell, MB. I am currently attending Brandon University taking education. Growing up I have always had a passion for figure skating and wanted to continue with this sport. So I took my CanSkate course and became certified! I helped out with skating in Russell before moving to Brandon and look forward to a great year with Skate Brando



Coaches from around the Province are invited to come and coach at our Spring and Summer Schools. Please contact the club for further details and requirements.
All coaches must provide their Coaching ID tags prior to coaching on club ice.

COACHES WANTED
Skate Brandon is accepting resume's from energetic Level 1 Certified coaches who are interested in Canskate, Synchro, and Star and Competitive programs. Please forward resume's to:
Skate Brandon
C/O Professional Liaison
#1 - 1175, 18th Street
Brandon Manitoba
R7A 7C5