Top Content Title
This is an additional section to be able to add content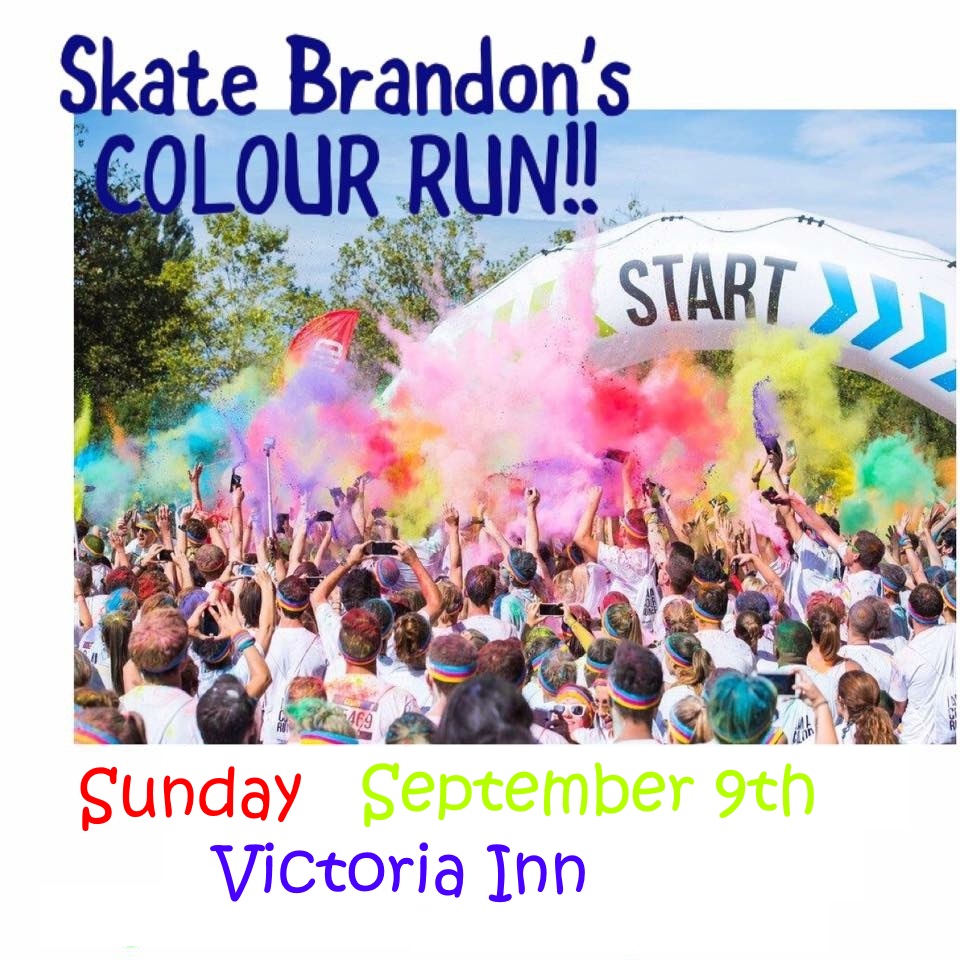 Thanks to all of you who participated in our 2018 Color Run and
making it another successful event! We hope to see you again
next year.
Colour Run FAQ
Who does the COLOUR

RUN

benefit?
This is a fundraiser for Skate Brandon. All profits will go the Skate Brandon Club for future costs. Thank you in advance for supporting our club and our athletes!
What's the price and how do I register?
Online registration for COLOUR RUN is now open.
Early bird registration before August 24th is $40.
After August 24th, the fee is $50.
At the Gate, the fee is $60.
Children 7 and under are FREE!! (Still need to register)
For GROUP RATES of 4 or more participants please contact Skate Brandon
Registration closes day of the race.
What do I get for registering?
A chance to experience the SECOND Skate Brandon COLOUR RUN, support Skate Brandon skaters, and also have the most fun you have had in a long time!
Is the

run

hard?
No. We are a fun run with lots of COLOUR BLASTS, and we have a lot of fun BLASTING colour not racing! COLOURRUN is the best way to be crazy and have a BLAST with family and friends while being healthy, happy and colourful. The run starts and finishes at the Victoria Inn parking lot (corner of 34th and Victoria). You won't be timed, so there is no pressure to hurry. Linger and get more colour, linger and have more fun!
Will it be timed?
No, COLOUR RUN is a 5km fun run/walk and is not a timed event. This is a "have a good time" event! You can always choose to time yourself if you want to know how long it took you to get all that colour on you!
Can I walk?
Walking is great! You will be one of many who will walk. It is not a timed event and is not competitive, so no pressure.
What time does it begin?
The run/walk will begin at 10AM. We recommend getting there 45-60 minutes early so you have plenty of time to park, pick up your registration pack, and stretch. The entire event will conclude around noon.
What is included in my COLOUR

RUN

race packet?
Your race packet will contain:
Race bib

1 pack of colour (which you will get at the finish line!)
When can I pick up my race packet?
You can register and pick up your race packet the day of the race, September 9th, starting at 8:30AM
Where is it and where do I park?
COLOUR RUN is being held at the Victoria Inn parking lot (corner of 34th and Victoria) with parking in designated areas.
What should I wear?
Wear whatever comfortable, easy to move in clothing you like! We do suggest wearing as much WHITE as possible because it shows the colour the best!
Can I wear costumes?
Yes! Costumes are fantastic! This event is made for that – tutus, funny glasses, moustaches, crazy hats – whatever you come up with. Just remember everything will get COLOUR BLASTED.
Will the colour stain my clothes, shoes or makeup?
The colour does mostly wash out after the event. As with anything dirty, the sooner you wash it, the better. We suggest wearing items you won't mind getting colourful. If you would like to preserve the colour in your running shirt, spray it with vinegar and iron it. If you wash your shirt, the colour will eventually come out, but it might not completely come out.
Will the colour get in my car?
Bring a towel/garbage bag to sit on and a plastic bag or two for your clothes and you'll be just fine. A change of clothes will ensure that you don't get too much colour in your car, but if you do, it can be dusted or vacuumed easily.
What is the colour made of?
The colour powder is manufactured and produced in the USA. It is made from food grade cornstarch. It is non-toxic and 100% safe and also biodegradable. As with any substance you will want to keep it out of your eyes and lungs. If you are overly sensitive you may want to wear glasses or goggles for your eyes and use a bandana or dust mask for your nose and mouth. (This is especially recommended for younger runners/walkers.)
How do the post-race colour throws work?
The crowd will be directed to do a COLOUR throw every 15 or 30 minutes to welcome new runners coming in. We provide one free bag of colour at the finish line (which is included in your race packet)
Can I take pictures?
Yes! Bring your camera or phone for selfies and other fun pics. We do recommend keeping it in a plastic bag to keep the dust out! If you are a photographer that would like to come and photograph our event, we will grant you permission with the understanding that any photographs you take may be used and edited by us for marketing and promotional purposes with or without your written consent. By photographing our event you acknowledge and agree to this condition.
COLOUR RUN will have a photographer on site to take pictures before, during, and after the race. These pictures will be posted on our Facebook page after the race for your viewing pleasure! So make sure to bring your best smile!
Are kids allowed?
Yes of course! Kids love to get coloured just as much as the rest of us. Kids 7 and under are free when running with an adult, but still must register online. All kids must have a release waiver signed by parent/guardian before they are allowed to participate. Need to bring a signed waiver with you.
Can my family watch?
Yes! This is an event that the whole family can take part in. Remember it's a fun run/walk and there will be people going at lots of different speeds. So bring your family and wave goodbye at the start and then give them a big COLOURFUL hug at the finish. Spectators can purchase Colour Packs and join in the Blasting.
Are dogs allowed?
Dogs and other pets are not eligible to participate in COLOUR RUN. Sorry.
Are there age limits?
No! Everyone and anyone is welcome to come out and have tons of fun at COLOUR RUN! Strollers, wagons and wheelchairs are welcome. No bikes, scooters or skateboards. We do recommend that your kids are properly protected with sunglasses or googles and for toddlers and infants, maybe even something to cover their mouth. The powdered colour is non-toxic and made mainly with corn starch, but it could irritate the smaller ones.
Can I walk/

run

with a team?
Grab a bunch of friends or family members and come as a team rather than as an individual. Pick a costume and team name and you are all set. Bring a buddy or run with your crew; this is a family oriented fun run. Adding to the social feel of COLOUR RUN, there will be music at the start and finish line.
Can I register the day of the event?
Yes
What if it rains?
The show must go on! Colour Run will go rain or shine. Dress according to the MB weather!
Can I refund my registration?
No, sorry. You can still pick up your packet and race goodies.
Can I transfer my registration?
No, sorry.
Can I volunteer?
Yes!! We love volunteers! Please send us a message and someone will be in touch with you with more details as the runapproaches. We need volunteers to throw colour on the participants and help with clean up. Help us make the world a more colourful place on September 9th!
STILL MORE QUESTIONS?
Send us a message on Facebook or email us at skatebrandon@wcgwave.ca
Sponsors
Becoming a sponsor and advertising with COLOUR RUN provides us with a great way for your business to get exposure and be involved with this great event. We offer different levels of sponsorship that allow you to advertise your business in a unique and meaningful way. CONTACT US to see how we can work together!
Bottom Content Title
This is an additional section to be able to add content