CANSKATE
CanSkate is a dynamic learn-to-skate program that focuses on fun, participation and basic skill development. Based on Sport Canada's long term athlete development (LTAD) principles, CanSkate centers on physical literacy and the fundamental skills needed to take part in any ice sport or to skate as a recreational activity.
Who's it for?
For beginners of all ages, children or adults, as well as for those wishing to improve their basic skills whether their focus be for figure skating, hockey, speed skating or just skating for fun.
Who teaches it?
NCCP-trained professional coaches, assisted by trained program assistants.
What will you learn?
A complete series of balance, control and agility skills taught in six stages of learning that pertain to hockey, ringette, speed skating and figure skating as well as general recreational skating. CanSkate uses nationally-tested and proven curriculum and delivery methods that guarantee skater success in developing stronger basic skills and developing them faster.
What can you expect?
Action, movement and fun! Lessons are given in a group format with a coach-to-student ratio of a maximum 1:10. Skaters progress at their own rate and coaches make sessions active using teaching aids, upbeat music and a wide variety of activities that create a motivational environment and promote learning. Badges, ribbons and other incentives are used to benchmark skaters' progress and reward effort and participation.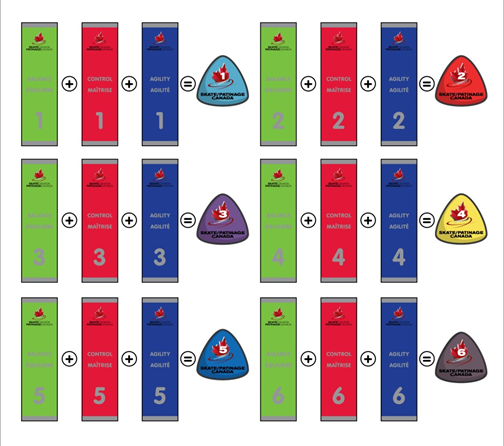 What do you need to participate?
All you need are skates, a CSA-approved hockey helmet, long pants, mittens, warm sweater or jacket. Dress in layers – it will get warm!
What days are the sessions?
Tuesdays 6:20 - 7:05 pm
Thursdays 5:50 - 6:35 pm
Thursdays 6:35 - 7:20 pm
(There will be some days that will be different than this due to ice availability)
How much does it cost? (2019/2020 fees)
9 sessions - $230.00
18 sessions - $420.00 ($40 savings)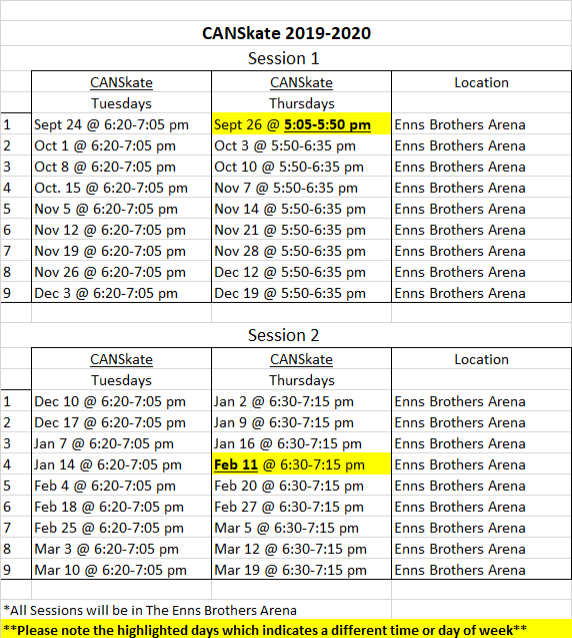 Parent Letter
2019/2020
Dear CANSkate Parents:
Welcome to Skate Brandon's CANSkate program!
CANSkate is Skate Canada's flagship learn-to-skate program for beginners of all ages that teach fundamental movements such as Balance, Control & Agility. The CANSkate program emphasizes fun and continuous movement and is taught in a group lesson format. CANSkate is taught by Skate Canada Professional Coaches who are assisted by trained Program Assistants. Awards and incentives are used to motivate skaters to achieve and develop their skills as well as to keep interest high!! CANSkate is a feeder program to all other Skate Canada programs such as CANPower and STARSkate.
Our CANSkate coaches this season are Kelly Walker, Jensyn Baron, Lauren Doyle, and Zoie Forgue. Kelly is our CANSkate Coordinator and will be available after any session to answer any questions you may have about your child's program or the program itself. During the session ice time we would like her to focus her attention on the children in lessons.
The Coaches are assisted on the ice by volunteers from our club called Program Assistants or PA's. If you are interested in helping on or off the ice, we are always looking for volunteers. Our PA's are trained by our coaches to deliver the best quality CANSkate program possible. Our coaches and PA's work as a team to ensure that your skaters have fun and achieve success on the ice. For insurance purposes, parents are not allowed on the ice unless previous arrangements have been made with Skate Brandon.
-Please ensure your child/children have CSA approved helmets.
-Dress your skaters for the temperatures – layers are recommended but be sure they are able to move freely in the clothes they wear.
-Be sure to remember their mitts.
-NO GUM is allowed on the ice.